SILVIO ZALAMBANI AMERINDIA ENSEMBLE

Silvio Zalambani - soprano saxophone
and arrangements
Chiara Lucchini - alto saxophone
Isabella Fabbri - alto saxophone
Anna Paola De Biase - tenor saxophone
Alessia Berra - bariton saxophone
Silvio Zalambani Amerindia Ensemble is the meeting of a soloist soprano saxophone and a female saxophone quartet, a totally original project for Latin American Music, the group creates a union of polirythms and jazz improvisations and engaging atmosphere in a form of chamber music.

Their first record work Saxofón Porteño, was released in 2022 for Borgatti Publisher and is a tribute to the music of Buenos Aires city, with compositions by contemporary and traditional Argentine tango authors, such as: Sonia Possetti, Diego Schissi, Federico Lechner, Osvaldo Pugliese, Astor Piazzolla, as well as Silvio Zalambani himself.




picture by A.I.R.F.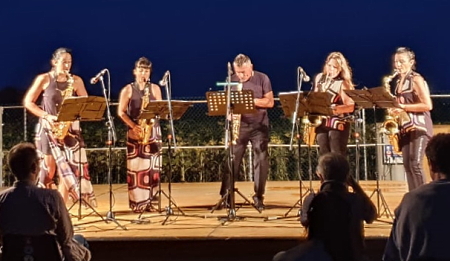 Amerindia Ensemble debuted in 2015 in Brazil at the 49 Festival Musica Nova - Gilberto Méndes (Ribeirão Preto-SP), following to perform in several music festivals and theatres: Fiato al Brasile (Faenza-Italy '15), Recondite Armonie (Brisighella-Italy '15), Museo Archeologico (Ferrara-Italy '15), Concerti a Villa Quassa (Ispra-Italy '15), Auditorium Club House (Ispra-Italy '17), Parco Archeologico (Classe-Italy '21), Fiati Festival (Ferrandina-Italy '22).